Retail Management Hero (RMH)
The next generation of POS software for small retailers is here
As Microsoft's Retail Management System (RMS) reaches its end of life, Retail Management Hero arrives as a robust and affordable solution for small retailers. The core functionality of RMS is present in Retail Management Hero, but with an updated Graphical User Interface and additional features based on RMS customer feedback. Many new features are available out of the box, such as charges, multi-language support, and touch screen optimization. Similar to RMS, Retail Management Hero is easily extendable and customizable to become the perfect POS solution for your small business.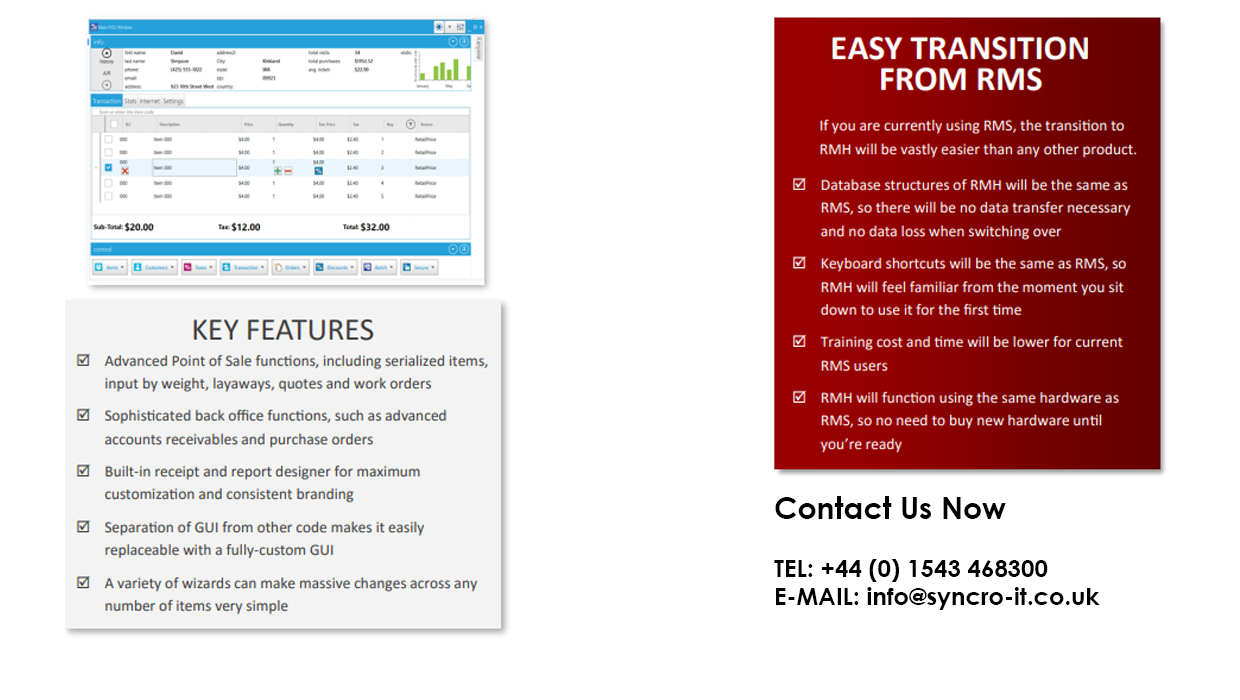 RMH Product Feature Summary
Point-Of-Sale Capabilities
Customizable, resizable transaction screen
User definable keyboard & macros
Unlimited line item entry
Automatic price lookup; automatic calculation tax / VAT
Lookup quantity and item attribute
Display item picture, extended description & sub description
Select shipping carrier and calculate shipping charges by weight/value
Multi-tender (i.e. cash, check, CC)
Sell and redeem vouchers / gift cards
Perform voids and return at POS
CC authorization & sign capture
Mix & Match pricing structure
Discount total or line item
Add customer account
Access customer info (total sales, # of visits, last visit date)
Issue store credit / receive payment per invoice
Process deposit on orders
Search by customer's ship address
Create / process layaway, backorders, work orders & quotes
Credit items sold to sales persons
View daily sales graph at POS; print journal from any POS
Preview, search & print journals by POS, batch, receipt #
Print X, Z and ZZ reports; perform blind close
Print receipts, invoices and pick tickets with logos & graphics
Print kit components on receipt
Print/re-print gift receipt
PreviewX-reportand sales receipt
Manager override at POS
Accept layaway payments
Item display roll-up/product grouping
Apply destination tax item sales
Process account payments at POS
Capture order details, due date and manage deposits at POS
Once off item/sale charges
 Inventory Control and Tracking
Track and manage inventory types
Organize and modify assembly, matrix and lot matrix items on spreadsheet-like formsLookup and modify matrix item by specific attribute (e.g. size, color, fit)
Support multiple suppliers for item
Define "master pack" for ordering
Assign item substitute
Serial number tracking
Unlimited item aliases
Support parent and child quantity
Attach notes / messages to items
Generate purchase orders
Receive shipment / transfer in
Process external file (StockTake)
Store and track offline inventory (items not for sale, breakage, etc.)
Print bar code labels (20 formats)
Record supplier volume purchase
Manage accounting items that do not affect sales like shipping charge, duty etc.
Supports multiple delivery notes
Invoice matching
Calibrate cost based on invoiced price
Print PO in matrix format
Supplier item discount
Supplier item management
Manage cost adjustments
Create supplier & item credit notes
Access historic inventory & purchasing data
Advanced Item Setup with Item profile, User fields, Matrix, Calculation, Auto mode, Mandatory, Defaults
Unit of Measure (UOM), options for item & purchases; multiple UOM configuration options per item
Installation/Configuration
Single point installation application
Single station
Multiple stations (network)
Multiple stores (optional/third party)
 Time Saving Tools
Wizards to make changes en masse; advanced item update wizard, label designer and label print wizard
Import utility for items, price & cost changes
Budgeting and performance by register, sales rep, cashier, store, department, category
Versatile menu ribbon with system shortcuts
Intuitive BO system design with enhanced navigation
 Inventory Types
Standard & service
Matrix (apparel), Lot matrix, Serialized (up to 3 serial numbers), Kit
Weight (tare, actual)
Non-Inventory items
Assembly items/Bill of Lading
Gasoline, Voucher
Supported Hardware
Cash drawers, Bar code readers, Mag card readers & MICR, Pole displays, Receipt
printers, Electronic scales, Signature capture, Touch screen, Secondary customer display
 Built-In Reports
Sharpshooter reports with built-in editor
Over 300 reports; Xml report export
Filter, hide, sort and group report data
Drill down access
Modify details directly from report
Export data to multiple formats
Graphical charts
 Advanced Security Options
User/role-based security
Access/display/change/edit/delete
Application role based security
Password policy
 Complete Mobility Bundle
Stocktaking
Ranging
Price change
Create PO/Transfer in / out via mobile device
Print price/shelf edge label
 Customer Information / Accounts Receivable
Search by name, postal code, customer #
Print mailing list
Track purchase including date and amount
Line Item Accounts Receivable
Charge to multiple A/R accounts from same sale
Configure group account access, availability & status
Define payment schedule and amount to be paid per schedule
Email A/R statements
Configure account adjustments, undo payments, place account on hold, unapply posting
 Pricing
Mix and Match I Buy X get Y discount
Lot Pricing (single, pack, case, etc.)
Multiple price levels I customer
Discount from retail, mark-up cost
Set Profit Margin, price rounding
Discount by amount
Lot pricing (single, pack, case, etc.)
Multiple taxes (VAT, GST, PST, etc.)
Multiple VAT / tax rate on sales commissions
Set up happy hours and sales schedules
Reason codes and analysis
Payment
Integration to variety of payment gateways and payment processors for credit/ debit card, EBTCopyright© 2016 Retail Management Hero
If you would like to discuss in more detail what RMH can do for you, please do not hesitate to contact us!